In intraday studies of stock indexes and Forex I have this weird habit of highlighting premarket, core session, lunch break and extended session with different backgrounds. If done by hand, this is tedious work that has to be repeated daily.
I think this feature should be built-in in TradingView. But it isn't.
For a few months now, I have been using this tiny indicator that does precisely that job. It saved me literally hours of focus time and mistakes. I have decided to revamp it and release it. I'm sure it can be useful to others.
Features:
Background color highlighting for premarket, core session, lunch hour and extended session of the trading day.
Session timing preset to match US session, but can be customized.
Can be enabled or disabled on a day of the week basis, including week-end.
Timezone is selectable, matches the chart's instrument but can be set independently to track a different timezone.
Not affected by the time zone you decided to assign to the chart's time scale.
Ready for stock indexes, but can be used to highlight Forex sessions too.
How to use
Once added to the chart, TradingView asks confirmation for several parameters: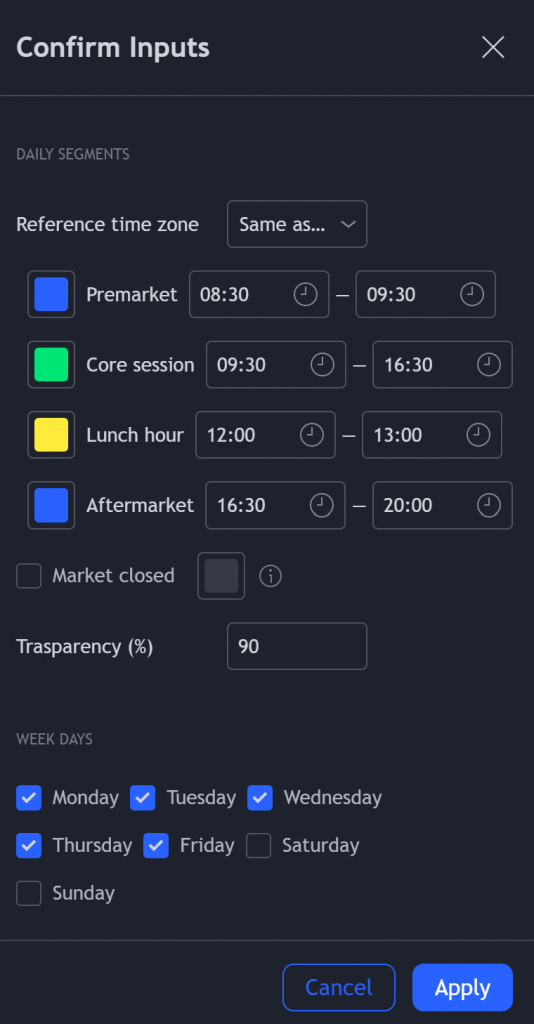 Parameters are pre-set for the US trading session. They can be customized for other exchanges or for Forex and Crypto sessions.
In particular:
The time zone used to highlight the session will match the instrument in the chart by default. (For example, it will be America/Chicago for US stock indexes), however it can be tied to a different one.
Premarket, core session, lunch hour (if any) and extended session can be customized in color and clock placement.
The indicator can be enabled individually per each week day
Once applied, the indicator can be changed or removed by looking into the chart's Object tree:
From there:
Double click Daily Session Windows to change indicator parameters
Click the "X" symbol next to the indicator to remove it from the chart
Get this indicator for your TradingView charts, here: https://www.tradingview.com/script/7qMP6NVY-Daily-Session-Windows-background-highlight-indicator/